Improve your child's
health, learning, and behavior
through science-based
diet and nutrition strategies
Certified Nutrition Consultant,
Educator, Author, & Published Researcher
I teach parents and practitioners that children with autism can improve and heal, and that there's hope for their children. Then I educate and empower them to make strategic dietary changes that positively affect children's health, which in turn helps their cognition and autism-related symptomatic behavior. With my unique range of knowledge, from nutrition research and clinical experience to cooking in the kitchen for my own family, I've created a much-needed community for parents and practitioners looking to help children with autism live happy, healthy lives.






JOIN MY COMMUNITY
GET 12 NUTRITION STEPS TO BETTER HEALTH, LEARNING, AND BEHAVIOR
March 2018 our study, "Comprehensive Nutritional and Dietary Intervention for Autism Spectrum Disorder—A Randomized, Controlled 12-Month Trial" was published in the scientific journal, Nutrients. It was led by Dr. James Adams and I was thrilled to be a co-author on the study.  We found that a healthy gluten-free, casein-free, and soy-free diet along with nutrients such as a multivitamin/mineral formula and essential fatty acids:
Increased IQ by 6.7 points

Improved developmental age by 4.5x

Decreased digestive symptoms

Reduced anxiety, depression, and aggression

Improved cognitive thinking, attention/focus and sociability
Nourishing Hope for Healing Kids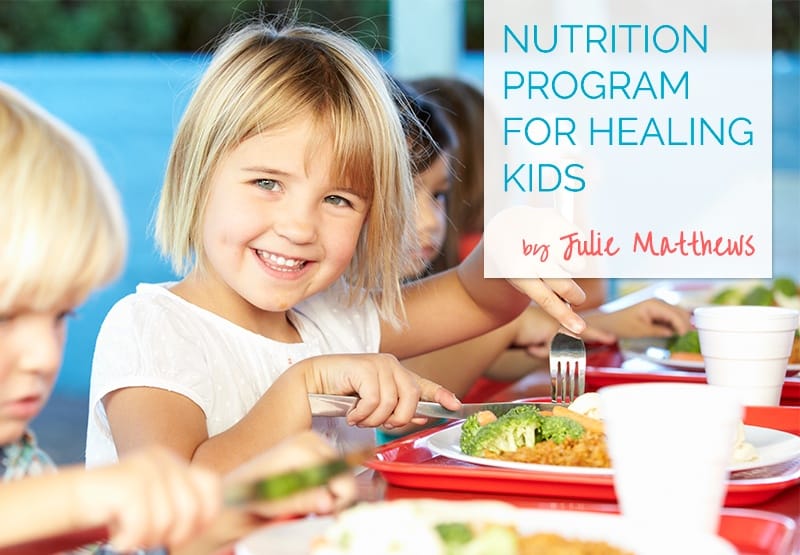 Online nutrition program for parents
Boost your child's nutrition and improve their learning and behavior.
Is your child a picky eater?
Are you concerned about your child's learning or behavior?
Help your child with with autism, ADHD, anxiety, down syndrome, and other neurodevelopmental delays.
What Parents & Children are Experiencing
"I was at a conference listening to nutritionist Julie Matthews. She was showing a slide of various behaviors, pretty accurately describing my son. At that time, my son had started showing some aggressive behaviors, mostly directed towards me (biting, causing bruises), and I was getting phone calls from school about him lashing out. The follow up slide was which foods to eliminate in order to stop the behaviors. It was all of my son's favorites. I immediately texted my husband and told him, when I got home, we were doing a diet overhaul. We took out all of the problem foods, and his behaviors stopped! The change was so dramatic that his doctor, who had wanted to start medication, decided it was unnecessary. Do not discount diet!"
-Jennifer S.
"I'm writing today with elation and still some disbelief to say thank you for all of the insights and learning you have shared over the years. They sure work!!! What a miracle! My 17 year old son has just received feedback from the diagnostician who gave him his diagnosis of PDD-NOS way back when my son was 3. This doctor is a very capable, very conservative allopathic practitioner – one of the more noted practitioners in the Boston area. While he doesn't believe in autism healing per se, he happily and confidently said that my son is 'in remission.' 'The diagnosis just doesn't apply to him anymore!' he continued. Lots of bone broth, epsom salt baths, GFCF eating, lots of exercise, and lots and lots of stress reduction. It ALL works. Thank you for showing me and the rest of the autism community the way forward."
– Sarah, Mom of a 17 year old boy who no longer has autism.
Parents
Free Resources (articles + recipes)
Books + Online Programs
Self-care for Moms
Practitioners
Resources + Guides
BioIndividual Nutrition Training
Pediatric Intensive Training
Forbes slams autism diet: My rebuttal
Take the Frustration Out of Picky Eating
Therapeutic Diets for Gut Healing
Most dads love a good barbeque. If you're a dad planning a barbeque, or a mom creating a fun day for the dad in your family's life, I've got some ideas for you! When you think of BBQ, I'm sure most of you are thinking of meat. But vegetables can be delicious on the...
read more
"Julie is a gifted nutritionist. She elucidates the biochemical imbalances involved in ASD with a clear understanding of how to use nutrition to correct these imbalances. I encourage parents and practitioners alike to read Nourishing Hope."
"As an overwhelmed autism mom staring at a long list of food allergies and underlying medical issues for my son, Julie Matthews was an invaluable resource to me and my family. My son is now 13 and recovered from autism."
"Julie Matthews does a masterful job at breaking down the complexities of therapeutic diets. Her knowledge of nutrition for children with autism is truly unique. She is a great asset to my patients, and the autism community at large."