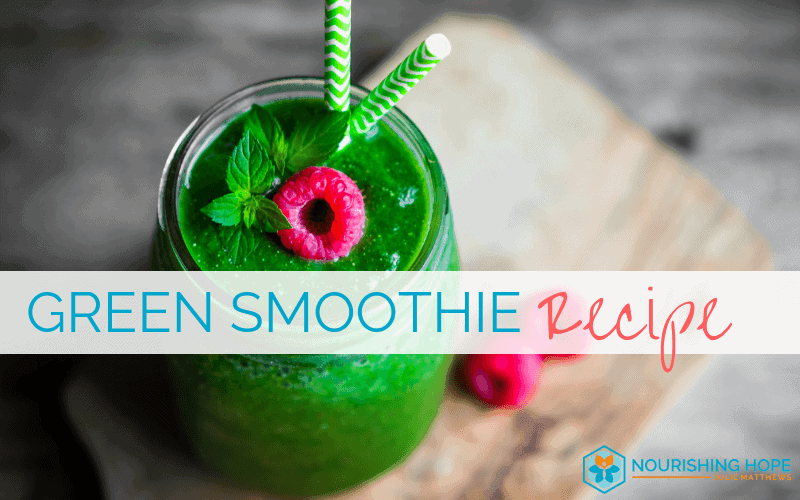 Your kids will love smoothies – even green ones!
One thing I ALWAYS talk about at live presentations is smoothies. Smoothies are one of the best tools in your "add good nutrition" learning toolkit – particularly when you want to get kale in. They're: Quick, easy, delicious, nutritious, easy to clean up, and kids love them!
I like going green.  However, spinach, swiss chard, and certain other greens can be very high in oxalate.  Not only have high oxalates been shown to be a problem in autism,1 oxalates also inhibit mineral absorption so you will not be able to access the wonderful and important minerals in the smoothie, such as calcium, magnesium, zinc and iron.  I suggest adding kale (particularly lacinato kale which is the kale lowest in oxalates).  I include some frozen fruit and maybe a spot of honey or a couple dates if the berries are a bit too sour. Add water or fresh pressed vegetable juice, or ice if you wish – but go easy of adding extra fruit juice (sugar!).
NOW is the time to get in the groove with smoothies – especially with all of the wonderful fruit and greens at farmers' market right now.
Be mindful of the power of your blender – if you're really committed, get a Vita-mix, it can handle any smoothie concoction you contrive.
EXPERIMENTATION is the key to making a successful smoothie – you've got to discover the flavors/textures that you like, otherwise you're not going to bother. Ideas to play with: fresh (or frozen) fruit, raw kale (vitamins!), avocado (good fats, add "smoothiness"), etc.
To make it SCD/GAPS compliant, use a very ripe banana and medjool dates.
Ingredients:
1 cup mango (fresh or frozen)
1/2 cup berries (fresh or frozen)
1 banana
1/2 avocado
5-8 kale leaves destemmed (about one cup of kale)
12 oz of water, or fresh fruit or vegetable juice
2 dates (optional if the berries are on the sour side)
Blend together in a blender and serve.
Sure, it's prettier going INTO the blender than in your glass, but with green smoothies it's the beauty inside (good nutrients) that counts – and, you and your kids will discover – they taste great! If you find your smoothie is more brown in color (when mixing red fruit with greens you get brown), add more greens.  I find if it's bright green, kids prefer the color better. Involve your kids in the process, it's fun too! Once you get your desired blend together, it just gets easier and more fun
NOW is the time to get in the groove with smoothies – especially with all of the wonderful fruit and greens at farmers' market right now.
P.S. If you've read The Autism Revolution, or listened to Dr. Martha Herbert lately…you'll know that she's a big fan of green smoothies too! 🙂
1. Konstantynowicz, Jerzy, Tadeusz Porowski, Walentyna Zoch-Zwierz, Jolanta Wasilewska, Halina Kadziela-Olech, Wojciech Kulak, Susan Costen Owens, Janina Piotrowska-Jastrzebska, and Maciej Kaczmarski. "A potential pathogenic role of oxalate in autism." european journal of paediatric neurology 16, no. 5 (2012): 485-491.
2 servings
8 minutes
POST UPDATE: June 10, 2015
Here are a few helpful slides from Julie's Nutrition Workshop (Supplements, Kids, and Fun with your Blender), presented along with Dr. Devin Houston at the USAAA Conference.
DOWNLOAD these Slides